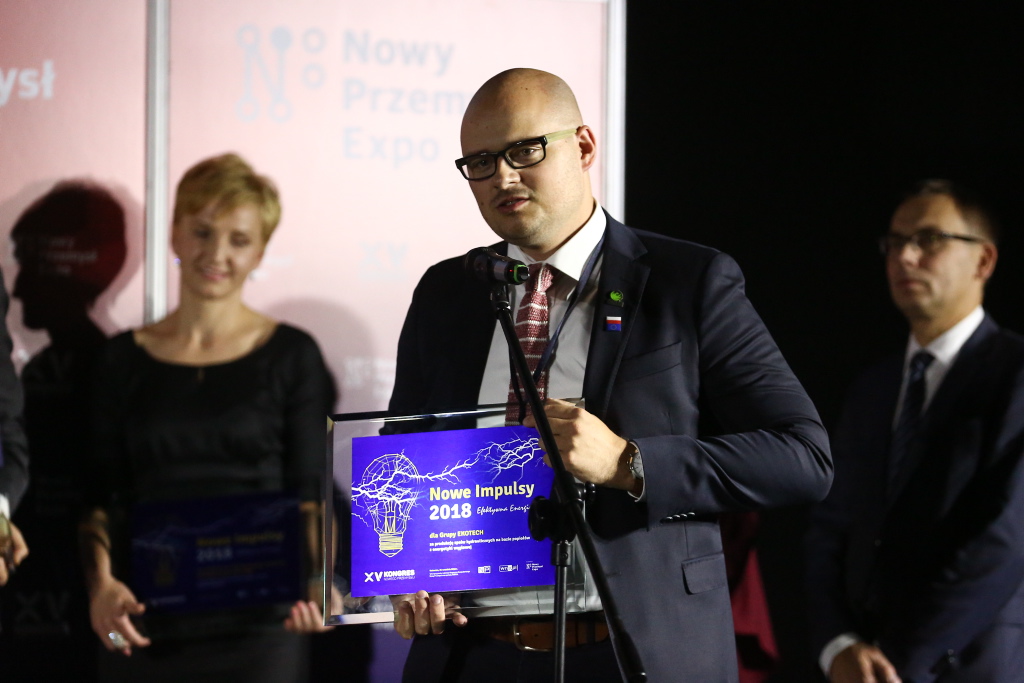 EKOTECH Group with the Nowy Impuls 2018 distinction
28.09.2018
EKOTECH Group received a distinction awarded by the magazine Nowy Przemysł and the website wnp.pl – "Nowy Impuls 2018". The company's contribution to building a circular economy was appreciated.
On September 26 at the International Congress Centre in Katowice, the editorial board of the magazine Nowy Przemysł and the website wnp.pl awarded a distinction "Nowy Impuls 2018" to EKOTECH Group for the production of hydraulic binders based on ashes from coal-based power industry. The decision was made after consultations with experts and authorities of the Polish power sector.
The jury deciding whether to award the distinction appreciated the fact that the company's activities significantly contribute to building a circular economy. It has been noticed that the use of ashes from coal-based power industry in construction involves a group of technologies that constitute a proven and effective example of a circular economy operating within the framework of energy services. Also, the company's results in the scope of conducted activities contributed to the distinction: in 2017 the EKOTECH Group sold 250 thousand tons of hydraulic binders. Since the beginning of its existence (1992) the company collected approx. 10 million tons of ashes from power stations, combining economically effective activity with a pro-environmental aspect, which is particularly important in the realities of the Polish power industry dominated by coal sources. A broad range of areas in which products manufactured by Ekotech are used, among others transport infrastructure construction (road and railway), hydrotechnical construction and general construction (terrain leveling, production of binders) turned out to be meaningful, as well.
The objective of the Nowy Impuls initiative is to indicate activities which contribute to guiding the Polish energy economy towards the path consistent with the idea of sustainable development, rational use of resources, simultaneously increasing technical reliability and optimisation of economic indicators. This year, the slogan "Effective energy" was particularly emphasised; operations of EKOTECH Group are consistent with this slogan and reflect it to the fullest extent.
The formula of this year's edition of Nowy Impuls is very open and capacious. We are interested in: organisational models and solutions, technological innovations, more efficient, more modern, more environmentally friendly production installations, devices and systems reducing energy losses, enabling better management of its consumption, improving distribution and transmission, supporting stability of supply and security, supporting energy market mechanisms, allowing better use of traditional or alternative fuels. Conclusions made from research concerning new models and solutions working in the energy industry will be developed in the form of a report which will constitute a comprehensive forecast for the sector.
"The Nowy Impuls 2018 distinction constitutes a confirmation for us that our operations are not only noticed and appreciated, but they can actually affect the development of the Polish energy sector guiding it towards a circular economy, which is more environmentally-friendly", said Kamil Szczygielski, President of the Management Board of EKOTECH Group.